Your home is probably the single biggest investment that you will ever make, so by simply adding high quality window film to your windows, both you and your home get many added benefits. Our window film will help lower cooling costs, reduce energy consumption, improve comfort and help protect your furnishings from fading. Solarkool.biz offers a low-cost way to turn ordinary glass into high-performing solar and safety glass. CHECK OUT SOME OF OUR WORK HERE!

Established for over 20 years and as Thailand's biggest supplier of window films we are confident that one of our window film solutions can help you. We pride ourselves on offering a complete, high-quality solution for your home and office. Our strong business ethics combined with an outstanding professional team enable us to offer consistent and superior customer service.

Located in Bangkok Thailand, but also covering Pattaya, Hua Hin, Koh Samui, Phuket infact anywhere in Thailand. We understand our customers' needs and offer a personal touch. When you call us, you will speak directly with the English Managing Director. He can answer any questions you may have and provide help and advice on the best option for your windows. ENGLISH CALL: 08-6083-9140 For a Free Quote!
Exciting Opportunity! We are now offering a sole franchise in PHUKET for our window film products - click here for more info!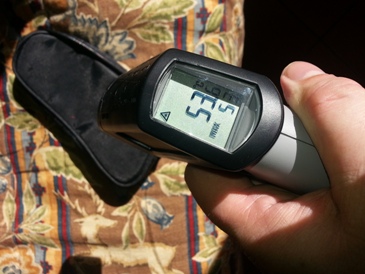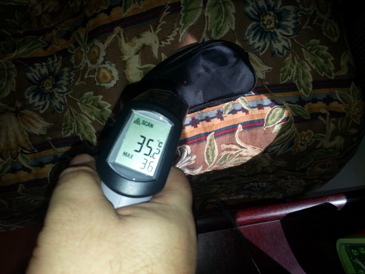 This is an example of what can be expected in the reduction of surface temperature before and after installing a window film. The amount of reduction depends of the type and shade of film used. But you can really feel the difference.
GREAT REASONS TO BUY QUALITY WINDOW FILM FROM US!
SAVES ENERGY & MONEY
From our experience the savings that are often made here in Thailand on a typical 3 bedroom house are between 25%-40% depending on your aircon usage. That equates to approx 1100-1500 baht saved per month or 14,000-18,000 baht per year. Based on an average installation your return of investment would be under 2 years! Read on for many other benefits of window film.
HELPS BLOCKS HEAT
Window film is the most efficient method to reduce unwanted solar heat from transferring through your windows. It can provide upto 80% heat reduction versus untreated glass while controlling hot spots and cooling off sun-drenched areas in your home or office. Read more about Infra Red Heat
ULTRAVIOLET REJECTION
Our window films block 99% of UV rays. While this helps to reduce heat, it also helps protect your furnishings from fading and acts as a type of sunscreen for your skin.
REDUCES GLARE
There is nothing worse that trying to watch television or use your computer with the glare of the sun bouncing off the screen making it difficult to watch or see what you are doing. Installing a good quality film will make watching tv and using your computer that more enjoyable.
ENHANCES PRIVACY & DETERS THEFT
The majority of window films offer some sort of added privacy. The level of privacy depends on the colour and transparency of the film used. Another benefit is that it can help deter theft, as valuables can't been seen so easily, and the film helps stop the glass shattering so easily, delaying or detering the would be thief.
EXCELLENT VALUE FOR MONEY
As the largest supplier of window films in Thailand, we are able to pass our purchasing power on to you. Solarkool's window film costs less than other shading devices, needs no maintenance, lasts longer and is the most effective sun control product on the market today. Fitting is always included in the price.
ESTABLISHED AND EXPERIENCED
Established in 1990 we have sold over a million square meters of window film.
ON SCHEDULE
We carry over 10,000,000 baht of window film in stock at any given time, there is no long waiting for delivery and fitting. It is usually less than a week from the time our estimator visits your property and gives you a quote to the actual fitting of your window film. We deliver and fit on time, every time!
NO DISRUPTION
Our installation teams are trained to work with minimal disruption to your home or office. We do our best to work around your schedule or daily routine and when the job is done, there is no mess left behind.
BUILT IN QUALITY
Our range of window films are produced in America, and are manufactured to the high standards you would expect from there.
OUR QUALITY GUARANTEE
Solarkool.biz offers a Double Guarantee against product failure and defective workmanship. We offer a 5, 10 and now a lifetime product guarantee depending on the type of window film selected and used. We also offer a one year guarantee in the event of faulty workmanship. (Basically, if you have a problem with the film, we will solve it)
EASY MAINTENANCE
Solarkool's window films are easy to clean and maintain. We give simple to understand cleaning instructions on completion of each installation.
Solarkool © 2009, 2010, 2011, 2012, 2013, 2014, 2015, 2016, 2017